This fall, VDOT has been hard at work releasing changes to I-66 design plans, and there still is no public meeting announced to communicate the latest designs.  Who knows what other secret changes are lurking behind locked doors at VDOT headquarters?
Now there is big change at Nutley Street.  Originally, VDOT was deciding between two options here: a conventional interchange and a "diverging diamond" interchange.  At the last rounds of public meetings, VDOT officials had assured the public that the diverging diamond was the final design.  Apparently, this was not accurate.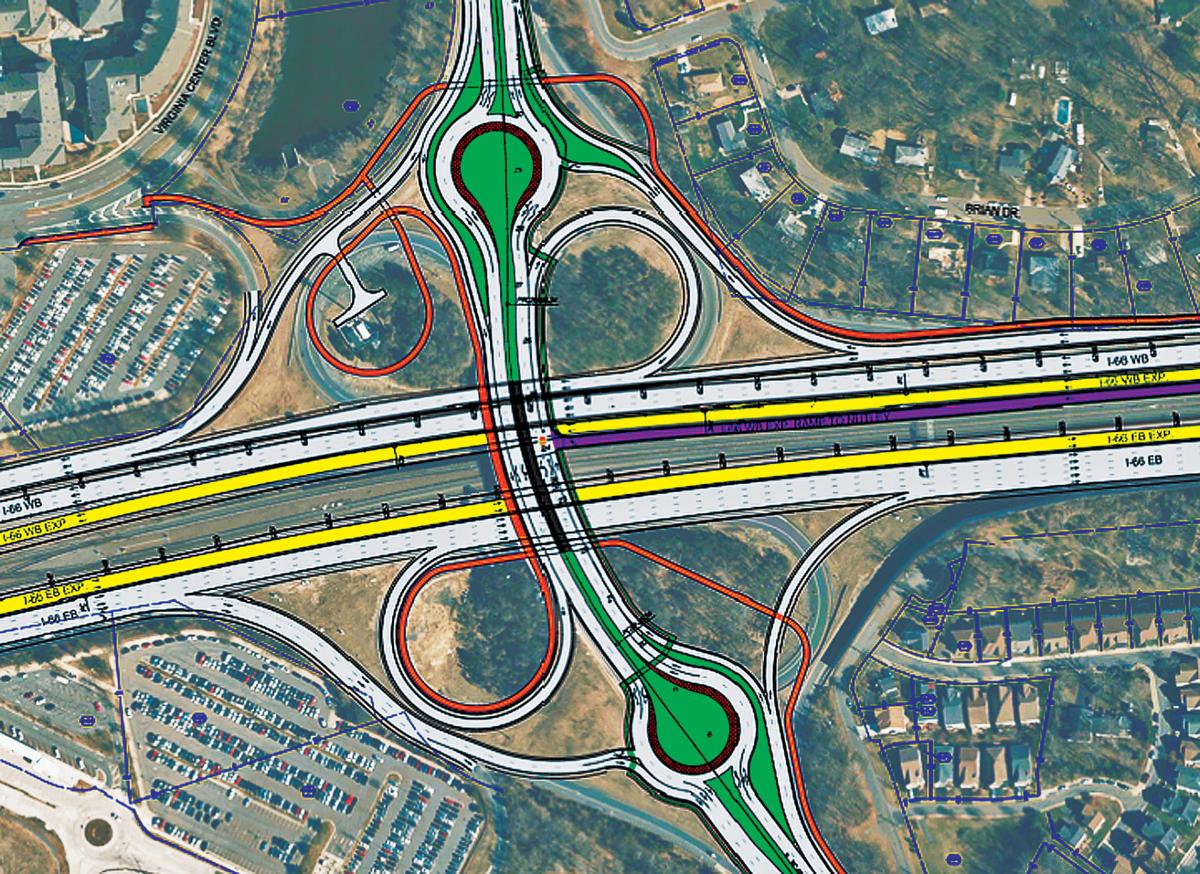 The latest Nutley Street interchange design resembles a curved dog bone, featuring two roundabouts and a wild, looping, steep experience for pedestrians and cyclists trying to travel along Nutley Street.  While Transform 66 Wisely is a big fan of creative engineering and thinking outside the box, a lot of work is needed to make this acceptable for folks trying to walk or ride to the Vienna Metro Station, access the new I-66 trail, or just get through the area.
The sidewalk has significant grade changes and long loops.  We are guessing that VDOT's contractor engineers will not be the folks who are forced to use this long, looping, hilly roller coaster course to use the Nutley Street overpass, on hot summer days, cold winter nights, or anytime at all.
Is this better?
The diverging diamond design formerly chosen does have several advantages.  By moving through local traffic across the median to the left side, left turns to or from the freeway become more efficient.  In engineers' jargon, there are fewer "conflict points."  But two traffic signals would be needed where today there are none, and pedestrians can have a difficult time crossing the various intersections to the middle of the interchange and then back again on the other side.
But somehow VDOT took the worst features of the diverging diamond and figured out how to make them worse for the most vulnerable users: pedestrians and cyclists. These folks are the "intermodal" users of the new bridge facility.  Why make things even more difficult for non-automobile drivers in a transit oriented community adjacent to a major Metro rail station?  Because that's what VDOT does.
Can the design be improved?  Sure, but it will cost a bit more money to build a more direct, less mountainous path for pedestrians and cyclists, and VDOT was pushing hard to sign the megaproject contract before basic rough designs were complete.   Besides the steep, long curves, the existing path course is a significant security concern.  There is no way to quickly escape an attacker or call for help to passersby while trapped high above or far below the interchange's islands on a very long loop course.   Does VDOT care about safety and security? This plan suggests that they do not.
What do you think?  Have you contacted your County and State representatives on the new design and its effects on folks just trying to walk or cycle alongside Nutley Street over I-66?  Are you demanding public meetings before such major changes occur?  VDOT held public meetings about simple repair projects on the US 50/Gallows Road bridge. Why does the Nutley Street bridge, with massive design changes not deserve a meeting?
And finally, what other surprises lie behind locked doors at VDOT waiting to be released sans public meetings?
More information:
https://www.insidenova.com/news/fairfax/vdot-reworks-plan-for-i–interchange-at-nutley-st/article_db6c7052-d12f-11e8-a3e0-cbef4dba7d65.html